Through the Seasons
jigsaw puzzle
Through the Seasons
I decided to paint this scene in four columns to depict the flow from one season to the next but keeping the sections separate. Each season brings different light and colours. The love of the countryside and the fauna and flora that resides in it is an inspiration to me and all artists.
This illustration is available in 1000 piece and 500XL piece jigsaw puzzles.

Janice's Stories behind the painting
Lamb on Ewe's back – Spring is my favourite time of year. I love to see the lambs when it is playtime in the evening. Running and chasing each other and climbing onto logs playing 'King of the Castle' and even climbing onto mum, to annoy her or to keep their feet nice and toasty.
Cows – These black and white girls are future producers of milk used to make the famous Wensleydale Cheese. They reside in the field adjacent to our barn.
Mistle Thrush – They are regular visitors to our lovely Pink Pagoda Rowan Tree. As the name implies, the tree has pink berries, which looks like blossom but is the fruit of autumn. The thrushes will only eat the berries when they have turned a whitish pink, so we get to enjoy the rich pink colour before the tree is stripped bare.
Barn Owl – These magnificent owls come into our garden searching for voles and mice. Occasionally, one perches on the back of our garden chair only a couple of metres from the window, what a sight! Tawny Owls are seen and heard regularly, and occasionally we see Little Owls in our garden and surrounding fields.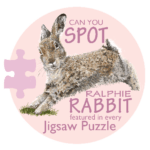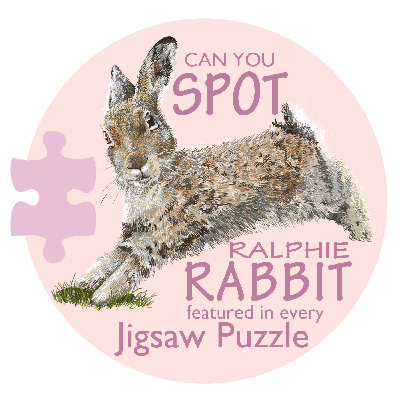 Did you find Ralphie Rabbit?
If not, try using the magnifying glass below by hovering over, or clicking it on the image below.
Still can't find Ralphie?
A clue : Ralphie Rabbit might have a spring in his step but he is leaping about to keep warm in this jigsaw puzzle.

Ralphie likes to hide. If you want to find out where he is hiding, click on the button below.