Garden in Bloom
jigsaw puzzle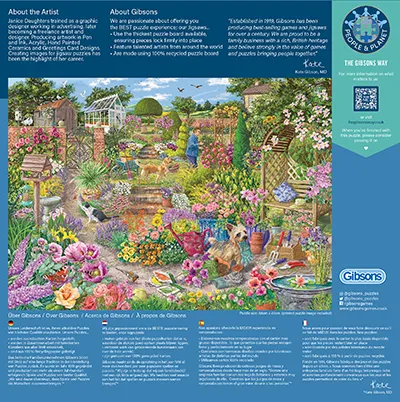 Garden in Bloom
This illustration was specially commissioned by Gibsons Games.
I have tried to paint a garden that many of us would be envious of, full of colour and interest.
Our own garden was created from meadow land. I really enjoyed designing the quarter acre plot and planning it into a haven for us and wildlife to enjoy. There are elements of our garden incorporated into this illustration but it is mostly an imaginary garden creation.

This illustration is available as a 1000 piece jigsaw puzzle.

JANICE'S STORIES BEHIND THE PAINTING
This gate was inspired by an old wrought iron gate we purchased from a salvage yard.

I love topiary. I have trimmed several trees and shrubs into shapes in my own garden. Levens Hall, Cumbria, is an inspirational place for me, with magnificent topiary trees and hedges.
The arbour is from our garden. A lovely focal point as well as a perch for us and the birds, especially the pheasants!
I just had to feature this bird table in the jigsaw puzzle as it was handmade by my husband.
Many plants in our garden have been propagated from cuttings and seeds. We have an abundance of lavender; my favourites are 'Little Lady' and 'Hidcote'. The hollyhocks, featured by the wall, were first introduced in our garden from seed given by a friend. Every year I collect more seed, and the display has grown into a mass of colour.
The featured dogs were inspired by, Gardeners' World, Monty Don's dogs. As all dog owners know, they can be a great help at times but also get up to mischief.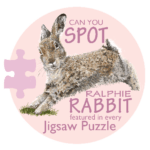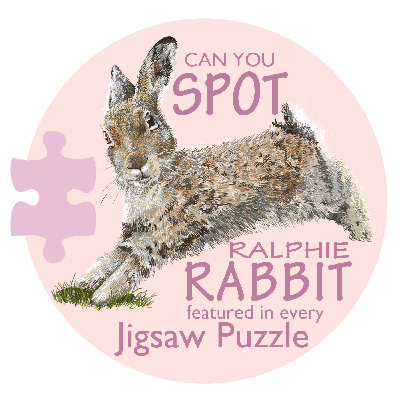 Did you find Ralphie Rabbit?
If not, try using the magnifying glass below by hovering over, or clicking it on the image below.
Still can't find Ralphie?
A Clue : Ralphie is searching for small, juicy cuttings and where he might find them.